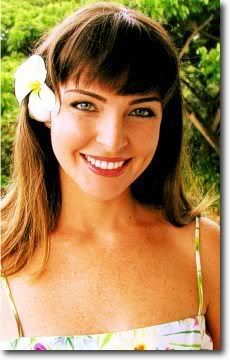 Do you remember the lovely painting I included in my very first post of 2009, called "The Road to Heavenly Hana?" Well, the very generous and talented artist who created it, Renee Coates, is sponsoring a special Valentine's Day giveaway just for readers of alphabet soup!
That's right! You may win a signed, limited edition print of your choosing just by going to 52Prints.com, and telling us which painting you like the most!


I asked Renee to tell us a little about herself, her work, and her websites, 52 Pieces and 52 Prints:
I'm primarily inspired by Hana Maui, where I grew up and nurtured my love of painting. I try to convey the essence of Hana, with its lush foliage, tropical scenery, and kind-hearted people. I love transforming ordinary objects or landscapes with vibrant color and unusual shapes. I try to offer people a way to see the world a new way through my paintings.
My favorite medium is oil, and I also love collaging. My favorite subjects are Hana scenes (which I'm currently focusing on for the months of Jan. and Feb. on 52 Prints), but I also have a fondness for cows and horses. Our family home in Hana is near Hana Ranch, so we had a lot of cows roaming our back yard! I think they are interesting creatures with a prominent bone structure that I find fun to paint.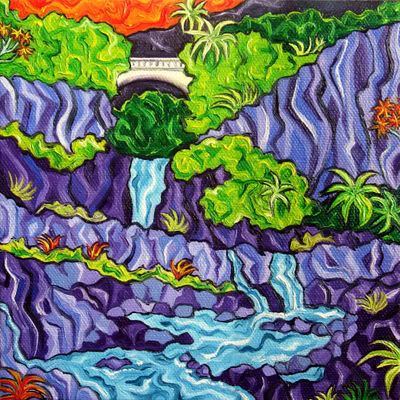 "Seven Pools" by Renee Coates

My main goal with 52 Pieces and 52 Prints is to give everyone a way to incorporate art into their lives. For so long, the art world has roped itself off from everyday people who are often intimidated by the brick-and-mortar establishment. Now, the internet gives patrons a way to connect with the artist and ask questions, give feedback, and COMMUNICATE! 52 Prints makes buying art fun and engaging, giving everyone a great way to fill their walls with limited edition prints that won't break the bank.


At 52 Pieces, each week an original 6" x 6" oil painting (signed, with certificate of authenticity) is posted on Sunday at 12:59 p.m. (EST), and auctioned off on Ebay.
Then, 100 7" x 7" prints of each of these paintings are made and sold at 52 Prints, according to "snowball pricing." Print #1 goes for $1, Print #2, for $2, and so on, until all pieces in the limited edition are sold. All prints are of identical quality and come hand-signed with a certificate of authenticity.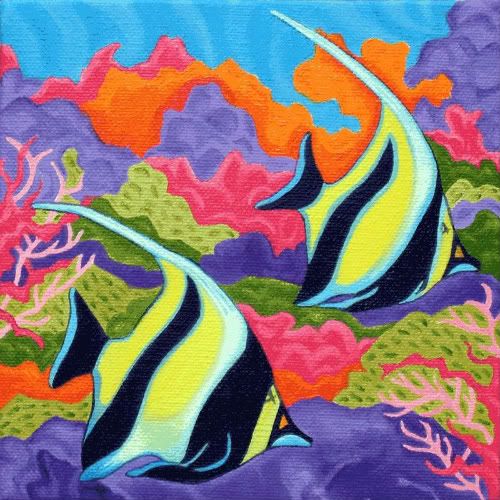 HOW TO ENTER THE GIVEAWAY:

Simply go to 52 Prints, select which of the 7" x 7" prints you like most, then tell us in a comment here, no later than midnight (EST), February 13th. Renee will randomly select a name on Valentine's Day, and send the winner #14 of the chosen print. Don't miss this unique opportunity to own a little piece of Hawai'i!
Renee, whose work is characterized by rich, saturated color in a "Gauguin-esque" style, has received national acclaim for her artistic achievements, including the National Alliance for Excellence Award, and the State of Hawaii's Sterling Scholar Award in Visual Arts. We thank her for making Valentine's Day extra special and for sharing the love!
Be sure to check out 52 Pieces regularly for each week's new painting. You can read more about the inspiration behind each piece on Renee's blog. If you'd like to be notified by email whenever a new original painting or print is available, click here.
**For Obama fans: Renee has created a special T-shirt in honor of the first President born in Hawai'i. See it here.

*All images posted by permission of the illustrator, copyright © 2009 Renee Coates. All rights reserved.