Look what came in the mail the other day!
After oohing and ahhing every month since the beginning of the year, I finally won my very own Grace Lin original painting in July's Small Graces auction!
I just have to say, Grace's art is gorgeous in person — the vibrancy of the colors, the small details, and those trademark swirls. I will be drinking in this loveliness for many years to come, and I can't wait to see what next month's painting will be! If you've been hesitant to bid, take the plunge — it's a rare chance to own an original piece of art and help the Foundation for Children's Books. Win-win situation all around ☺!
♥ Since you're here, no need to go hungry. Why not pop on over to Lisa Schroeder's blog and try her recipe for Blueberry Crumb Bars?


And have you checked out the Novel Food 2009 Summer Edition? Tanita S. Davis tipped me off to this cool event awhile ago, but I didn't get my act together in time to submit a post to the roundup. Two bloggers, Lisa from Champaign Taste, and Simona of Briciole, started this literary-culinary event a couple of years ago, where bloggers are invited to cook a dish inspired by something they've read (novel, novella, short story, poem, memoir).
Some of the treats this time around include a Mad Hatter's Tea Party in honor of Alice in Wonderland, four kinds of bread (Rounding the Mark by Andrea Camilleri), and an Afghan meal featuring lamb kebabs (A Thousand Splendid Suns by Khaled Hosseini). Lisa has half the roundup here, and Simona has the other half here. An archive of all Novel Food roundups can be found here. There'll be another Novel Food edition later this year — read more about how to participate!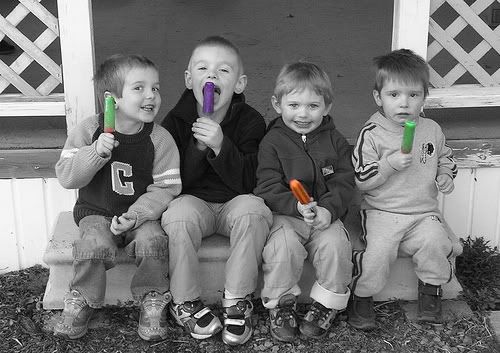 photo by Heaps Happy.

Take it easy and stay cool this week!