"The wind was blowing, but not too hard, and everyone was so happy and gay for it was only twenty degrees below zero and the sun shone." ~ Laura Ingalls Wilder
I didn't realize until the other day that Charles Dickens and Laura Ingalls Wilder were both born on February 7th. Definitely must give Laura a little equal time today! (Anyone who says "only twenty degrees below zero" deserves 100 birthday cakes.)
Enjoy this 10-minute video about Laura's life. It was done for a school project and is narrated by a very articulate young lady.
Wishing for something new to read about Laura? A very special book is coming!
On March 16th, Borrowed Names by Jeannine Atkins (Henry Holt, 2010), will be officially released! It features poems about three notable mother-daughter pairs: Laura Ingalls Wilder and Rose Wilder Lane, Madam C.J. Walker and A'Lelia Walker, and Marie Curie and Irène Joliot-Curie. The book has already received starred reviews from Booklist and School Library Journal. Pre-order your copy now! To whet your appetite, click here to read a nice excerpt.
Now, let's celebrate Laura's birthday with a nice piece of apple pie!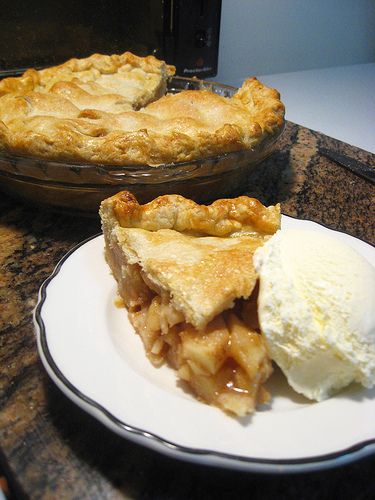 photo by forkableblog.
Have a lovely Sunday!
More Pajama Party posts here.
Related posts about LIW on alphabet soup:
♥ My interview with Sidney Greenbush, who played Carrie Ingalls on the TV series, "Little House on the Prairie." (It gets the most hits on this blog!)
♥ "Laura for a Day" (with her gingerbread recipe).
♥ "A Heapin' Helpin' of Almanzo's Fried Apples 'n Onions."
Copyright © 2010 Jama Rattigan of jama rattigan's alphabet soup. All rights reserved.