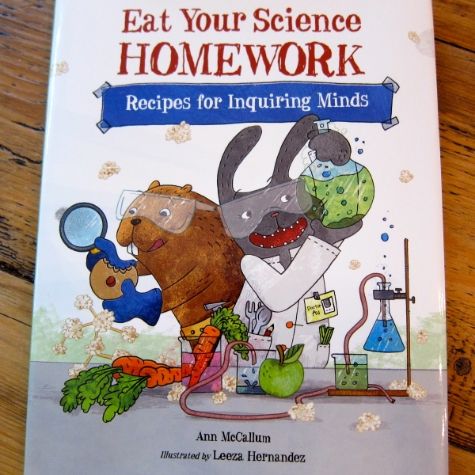 Put on your aprons, lab coats and best bibs!
Ann McCallum and Leeza Hernandez, who tessellated our taste buds and dispelled our fear of polygons, fractions and tangrams with their delightful Eat Your Math Homework: Recipes for Hungry Minds (Charlesbridge, 2011), have just published a wonderful companion cookbook featuring six edible science projects.
In Eat Your Science Homework: Recipes for Inquiring Minds (Charlesbridge 2014), they serve up a bit of geology, chemistry, astrophysics and forensics, successfully turning "toil into tasty and drudgery into delicious."
When you think about it, the kitchen is the best laboratory around — a fun place to experiment with various ingredients and methods with delectable and sometimes surprising results. Ann's recipes give upper elementary kids a chance to learn about The Scientific Method, Atoms and Molecules, Properties of Matter, Inherited Traits, Rocks and Minerals, and Our Solar System with hands-on activities in a familiar setting.
A little puzzled about atoms, elements and molecules? Munch on a batch of Atomic Popcorn Balls. Ever wonder why oil and vinegar don't like to mix? Dip some veggies into a honey barbecue sauce dressing while contemplating density. And what are black holes, anyway? See how gravity swallows up sausage bits right in your muffin tin. And I can't think of a more appetizing way to understand sedimentary layers than by making a pan of pizza lasagna.  :)