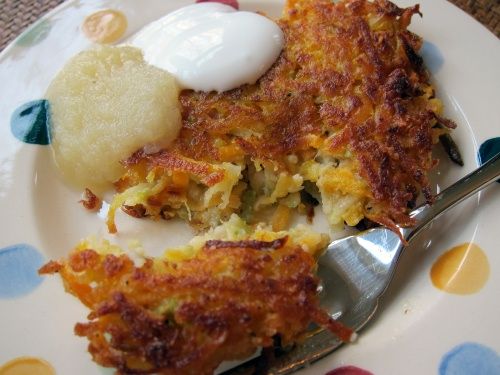 Oy! It's Hanukkah already and though I've been waiting patiently for a nice Jewish grandmother to adopt me, she hasn't come forward yet. Cornelius suggested we should just go ahead and make our own latkes while we're waiting.
Mmmm, latkes — the mere thought of crisp, golden potato pancakes with dabs of sour cream and applesauce makes my mouth water. I can picture mothers and grandmothers busy in the kitchen preparing their special recipes for loved ones, happy families gathered around the table eager to try the latkes first despite all the other delicious dishes being served. And why not? Latkes are irresistible and so comforting, a perfect ode to oil for the Festival of Lights!
Since I really wanted to impress any grandmotherly prospects, I decided to forego the classic white potatoes recipe in favor of something a little different. Actually, I got a special request from poet friend Gail Gerwin to share the Sweet Potato-Apple Latkes recipe from The Apple Lover's Cookbook which I reviewed recently. I was only too happy to oblige, despite the fact that Gail is too young to be my grandmother (she's a terrific cook, though, if you remember the delicious Stuffed Cabbage she made for Passover Seder this past April).