Happy Poetry Friday! 
I hope you've been really getting into the spirit of celebrating Children's Book Week by reading to your children, attending special author events, working on school projects, or writing your own stories and poems!
All week long here at alphabet soup, we've been serving up a feast of nursery rhymes courtesy of Mother Goose, with some recipes on the side. It's been a lot of fun, but I never imagined she would have so many tricks up her sleeve. 
I must say, I now have new respect for her. She's been around for hundreds of years, is known all over the world, and her rhymes were the first poetic food for practically everyone in the western world. This bird rawks!
But today she's laying an egg.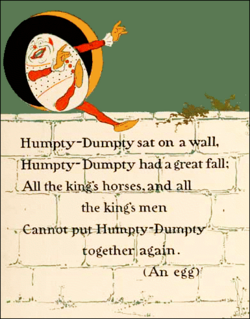 (illustration by William Wallace Denslow)
Humpty Dumpty sat on a wall,
Humpty Dumpty had a great fall.
All the King's horses and all the King's men
Couldn't put Humpty together again.
          
I've always loved this roly poly guy. Big, but fragile. The rhyme never says he was an egg, because it started out as a riddle, appearing in print for the first time in 1810. Humpty dumpty was 18th century slang for a short, clumsy person. Previous to that, it referred to a drink of brandy boiled with ale. 
Like any good egg, Humpty has spawned a lot of theories about his real identity. Was he really a large powerful cannon used during the English Civil War that tumbled to the ground when the wall he was perched on got hit by enemy fire?
Or was he King Richard III of England, the hunchback, who fell off his steed during battle and got "hacked to pieces?"
Or was he all about Cardinal Wolsey's downfall?
I don't think Humpty's talking. He's been too busy picking up the pieces. Ironic that ever since the big fall, no one has ever been able to crack his code.
Like yesterday's Queen of Hearts, though, Humpty gained legions of new fans by appearing in Alice in Wonderland.  Ever since then, he has permeated popular culture with references in film, music, and literature. Just trying to eggspress himself.

(Humpty meets Alice ala Lewis Carroll)