It's here, it's finally here!
Happy Spring!
We must celebrate with what so many of us are craving after such a long hard winter: COLOR!
But why settle for plain blue when you can have indigo or blue moonshade? As for green, make mine Elysian. Let's bask in the evocative names of colors and the flights of fancy they inspire. And yes, you may call me Sheba. :)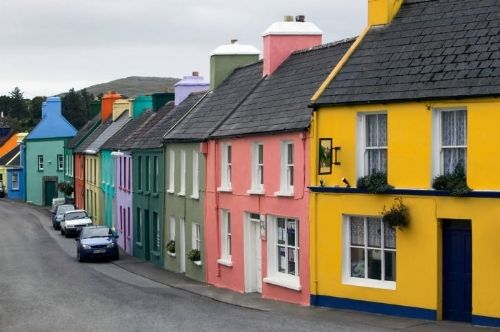 POEM FROM A COLOUR CHART OF HOUSEPAINTS
by Wendy Cope
Limeglow of leaves –
elf, sapling
in Elysian green,
she's jitterbugging
in the forest.
She is froth, the tang
of julep, capering
among the ferns.
Passion, the firedance
of her fantasy,
fireglow of poppy
and corona, ember.
Casanova, peerless
demon, jester!
She burns, a firefly,
Apollo's geisha.
Her sandgold hair,
spun silk kimono,
melon and lemon sorbet
on the balcony,
white wine, gardenias.
That honeysuckle year –
if he could ransom
one sunlit day!
Indigo seascape –
Melissa in cool,
blue moonshade.
Harebell, naiad,
exotic ballerina,
she commands the bay,
the midnight swell,
the surf, pale gossamer.
Autumnal in brogues,
beige twinset, russet
tweeds, she takes
coffee at eleven,
sherry at noon –
dreams of Tarragona,
castanets, a man
who called her Sheba.
Her mood
is violet, nocturnal.
Aubrietia, phlox,
wisteria delight her
more than roses.
Solitude, a purple
robe, a last
long hazy evening.
~ from If I Don't Know (Faber & Faber, 2001).
*
Which shade of green should I use to paint my dining room — Barefoot in the Grass, Peaceful Garden, or Spring Has Sprung? Inspired by nature's palette, we paint our rooms to bring the outdoors in. While I contemplate my choices, enjoy this floral bouquet plucked from Cope's dreamscape. If you need me, I'll be lounging in my purple robe sipping sherry. Come to think of it, I've always wanted a pair of castanets.