Posts Tagged 'illustration'
PIE GOBBLE GOBBLE PIE GOBBLE GOBBLE PIE!
Did I mention PIE?
:D
Posted in author recipes, author/illustrator interviews, book reviews (all genres), picture books, weekend cooking, tagged agriculture, baking, children's literature, cranberries, farming, food, fruit, illustration, picture books, recipes, wisconsin on November 24, 2015 | 20 Comments »
No holiday table would be complete without beautiful festive cranberries. Whether you like your cranberry sauce fresh or from a can, there's just something about that deep red color and distinctive tartness that speaks to cherished tradition and good times.
Alongside the magnificent gobbler and tricked-out starchy sides, cranberry sauce is like the pampered guest who knows it was invited to dinner just as much for its prettiness as its flavor. Not snobby in the least, cranberries enjoy being appreciated for their good looks.
In the past I've made lovely cranberry wreaths for the front door, strung garlands of it with popcorn to adorn our Christmas tree, baked them into muffins and breads, and made a delicious relish with grated orange rind. Often, if I'm asked to bring a side dish on Thanksgiving, I'll make a cooked cranberry gelatin mold — one part retro, two parts jiggle. :)
Posted in just for fun, picture books, tea party, tagged children's book authors, children's books, children's literature, hotTEAs, illustration, iza trapani, kidlitosphere, nursery rhymes, tea on November 19, 2015 | 34 Comments »
☕ CUPPA OF CHOICE: I drink all kinds of teas. Lately, I've been enjoying hot cinnamon spice from Harney & Sons. It's lightly sweet and zesTEA :-). Looks like Teddy would like some too. Should I offer him a cup?
☕ HOT OFF THE PRESS: Old King Cole (Charlesbridge, August 2015). Forthcoming: Gabe and Goon (Charlesbridge, July 2016).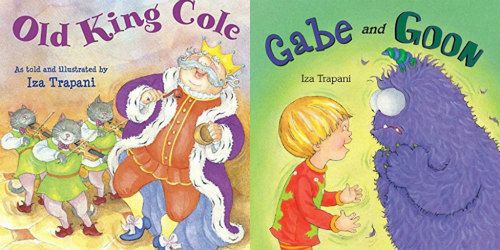 ☕ FAVE FOODIE CHILDREN'S BOOK(s): Tops and Bottoms by Janet Stevens (Harcourt, 1995), Green Eggs and Ham by Dr. Seuss (Random House, 2002), Pumpkin Soup by Helen Cooper (FSG, 2005), and Split Pea Soup (from the George and Martha stories) by James Marshall (HMH, 1974).
☕ Visit Iza Trapani's Official Website and blog, In and Out of My Studio.
☕☕ JUST ONE MORE SIP: Old King Cole Book Trailer !
*   *   *
☕☕☕ CAN'T GET ENOUGH: Iza's Twinkle Twinkle Little Star read by ESA Astronaut Samantha Cristoforetti aboard the International Space Station!! Far out and too cool. :)
*
——————————————————————————–
Copyright © 2015 Jama Rattigan of Jama's Alphabet Soup. All rights reserved.
Welcome

Food for Thought

Let's Connect 🐻🐻🐻

More Foodie Books for Kids

Crushing On

Indie Artist Spotlights

Julia Child's 100th Birthday Celebration

Mr. Cornelius

Pages

Official Alphabet Soup Cookie

I Wrote

Le Menu

Archives

Search this blog!

Eye Candy

Takes the Cake

Bearstache

Always Delicious

Archival Lists

Favorite Posts

Second Helpings

No elephants. No donkeys. We're all giraffes.

Meta

Unless otherwise credited, all content copyright © 2007-2015 Jama Rattigan. All rights reserved. Please do not reproduce in any form without permission.