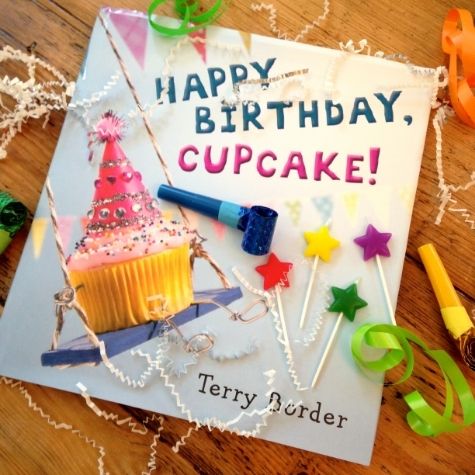 Guess who's having a birthday?
You may remember this pretty-in-pink frosted cutie from Terry Border's delightful debut picture book, Peanut Butter and Cupcake (Philomel, 2014), where she boinged on a pogo stick and bedecked a castle with colorful sprinkles.
This time it's Cupcake's birthday, and she's planning the perfect themed party with the help of her best friend Muffin. But for every one of Cupcake's bright ideas (beach party! boat party! makeover session! musical chairs! getting down with the limbo!), Muffin counters with reasons why they wouldn't work (drippy guests! sick soup! disgruntled burger! squished guest of honor! decapitation . . . gulp).
Talk about a party pooper.
What's a birthday girl to do? Well, she could follow Muffin through the garden gate. Won't tell you what happens, but let's just say it turns out to be the happiest, sweetest, tastiest celebration ever (I wanted to devour all the party guests). Looks like Muffin has topped himself. :)