A Poem in Your Pocket by Margaret McNamara and G. Brian Karas (Schwartz & Wade, 2015) is the perfect Poetry Month book, as it will get kids excited about writing their own poems and reading them aloud. The story centers around Elinor, a conscientious model student who struggles with a major case of writer's block when she tries too hard to write the perfect poem.
In this third book in the series about Mr. Tiffin's class, Elinor and her classmates are very excited that Emmy Crane, "a great American poet," will be visiting their school on Poem in Your Pocket Day. The plan is to learn as much as they can about poetry by reading and memorizing poems, and by writing poems in their journals. They will then select one of their poems to put in their pockets, which they will read aloud at the school assembly for Ms. Crane.
Supremely confident, somewhat braggy Elinor plans to wear jeans with six pockets when Ms. Crane comes, with an original poem stashed in each one. She dives right into studying everything and anything about poetry a full month ahead of the class. When April rolls around, Mr. Tiffin teaches them about figures of speech (similes, metaphors), and different poetic forms (haiku, acrostic, concrete). Everyone has fun reading sample poems and writing their own, while strangely silent Elinor has nothing to share, reassuring the others that she will come up with something amazing for Ms. Crane's visit.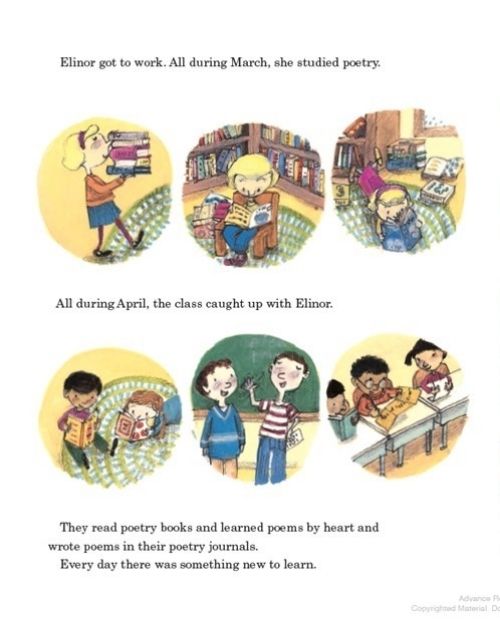 Mr. Tiffin takes the class outdoors so they can practice using their "poet's eyes." Another day, he gives them each a brown paper bag and asks them to write a poem about what's inside. Everyone is eager to read their poems aloud for the others to guess, but Elinor's journal remains blank.