"The joys of the table belong equally to all ages, conditions, countries and times; they mix with all other pleasures, and remain the last to console us for their loss." (Jean Anthelme Brillat-Savarin)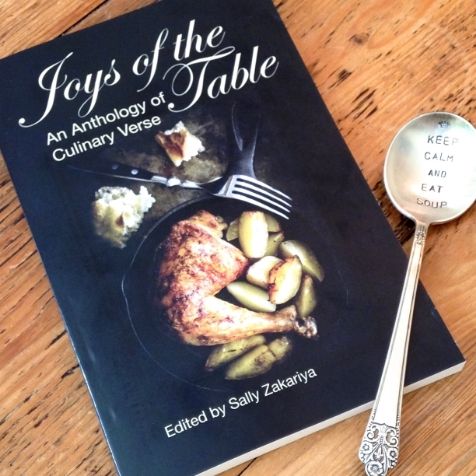 Talk about a kid in a candy store. As soon as my copy of Joys of the Table arrived, I polished my silver soup spoon, donned my nattiest bib (velvet trim, don't you know), licked my chops, then ever so intently sipped, munched, chewed, relished and savored each and every poem in this tasty tome.
What a marvelous feast! The 100 or so poems (some with recipes) by 75 poets from around the country are served up in six courses: Amuse Bouche, What We Eat, Food and Love, Geography of Food, Kitchen Memories, and Food and Mortality. It was nice to see quite a few familiar favorites (Diane Lockward, Sharon Auberle, Barbara Crooker, Andrea Potos, Jacqueline Jules, Susan Rich, Annelies Zijderveld), as well as discover many new-to-me poets whose delicious verses left me craving more of their work (Lisa Kosow, Eric Forsbergh, Katharyn Howd Machan, Dianne Silvestri, Anne Meek, and Christie Grimes to name a few).
In a publisher's interview, Editor Sally Zakariya was asked why she decided to put together an anthology of food poems:
I wondered that myself more than once! But really, food in its many aspects—personal, sentimental, sensual, universal—is a natural subject for poetry. I realized I had written a number of poems about remembered meals, nurturing cooks, and food as a symbol of communion and contentment, and I found that other poets I know had, too. And because food is so basic to our relationships with family and friends and lovers, I thought many poets would like to have such an anthology on their own shelves—and perhaps to give copies to their favorite cooks.
There certainly was no shortage of submissions — Sally received hundreds of additional poems worthy of being included — but ultimately her criteria for selection was subjective. I do like her taste in poems, noting that there was a higher percentage of poems that resonated with me in this anthology than in others.  (more…)