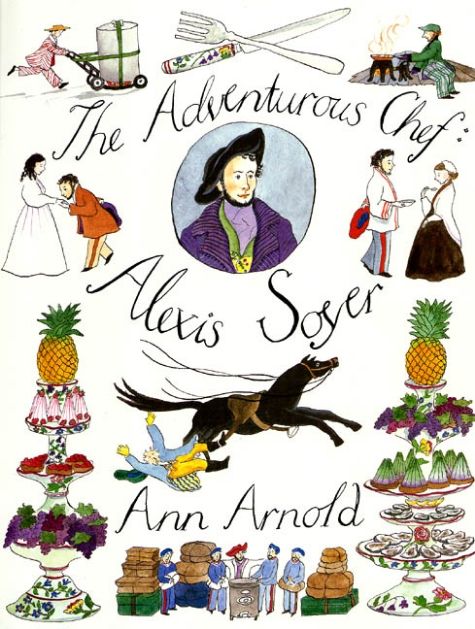 If 19th century French chef Alexis Soyer were alive today, he'd likely have his own cooking show. His name brand sauces, cookbooks and kitchen utensils would fill store shelves, velvet berets would be all the rage, and lines of fans would snake around the block at all his public appearances.
Though he was deliciously famous during Victorian times and has been called the first celebrity chef, today Soyer is curiously the man history forgot.
I've been fascinated by his life and work ever since reading Ann Arnold's beautifully written and illustrated picture book biography. You may know Ann as the illustrator of Alice Waters's now classic Fanny at Chez Panisse, which is 'the book' that got me hooked on illustrated cookbooks.
In The Adventurous Chef: Alexis Soyer (Farrar, Straus and Giroux, 2002), Ann outlines Soyer's life from his humble beginnings in the tiny French town of Meaux-en-Brie (1809), till his death from Crimean fever in London at the age of 48. He was quite a colorful and flamboyant character who enjoyed amusing people — not only a celebrated chef with a social conscience, but also an inventor, entrepreneur, and prolific cookbook author.