Posts Tagged 'shakespeare'
"Heat not a furnace for your foe so hot that it do singe yourself." ~ the Bard

—————————————————

Source: RoryHenry.

A resounding Huzzah!
It's June, and that means it's time once again for Brush Up Your Shakespeare Month, presented by the brilliant Kelly R. Fineman at Writing and Ruminating.
She will be discussing 11 plays (full list here), and promises wickedly keen analysis and commentary, special guests, contests every Friday, and if you like, a dancing bear. There will be much to marvel at, as this adorable poetess serves up a mixed plate of the high brow, low brow, beautiful and bawdy. As is her year round custom, there'll be a bit of the Bard's poetry every Wednesday. She's kicking things off this week with Hamlet and The Tempest.
To whet your appetite, a few foodie quotes from plays she'll be covering in June:
Romeo and Juliet: act 4, scene 2
Tis an ill cook that cannot lick his own fingers.
Henry IV Part I: act 2, scene 1
He hath eaten me out of house and home; he hath put all my substance into that fat belly of his.
A Midsummer Night's Dream: act 4, scene 2
And, most dear actors, eat no onions or garlic, for we are to utter sweet breath; and I do not doubt but to hear them say, it is a sweet comedy. No more words: Away! Go, away!

Henry IV Part I: act 3, scene 1
O, he is as tedious as a tired horse, a railing wife; worse than a smokey house: I had rather live with cheese and garlic in a windmill, far, than feed on cates and have him talk to me in any summer-house in Christendom.
The Comedy Of Errors: act 5, scene 1
Unquiet meals make ill digestions.
Romeo and Juliet: act 4, scene 4
They call for dates and quinces in the pastry.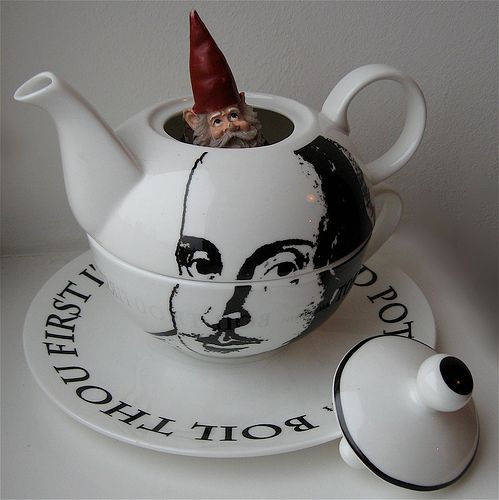 Source: RoryHenry.
Okay now, hie thee hence (with or without your tights, ruffs, farthingales and codpieces)!
Copyright © 2010 Jama Rattigan of jama rattigan's alphabet soup. All rights reserved.
My dearest Kelly,
Though I may be small in stature (3 inches tall to be exact), I am your biggest fan.
All during Brush Up Your Shakespeare Month, I've read your brilliant, insightful, fascinating, bawdy witty and informative posts. You've treated us to a bountiful feast of commentary and analysis of the Bard's greatest plays and sonnets. You've included videos of hotties like Kevin Kline, Dave McKean and Kenneth Branagh. You made me laugh, ponder, and appreciate anew the greatest poet and playwright who ever lived.
Though I don't have a blog of my own, I hope I'm still eligible to enter your final contest by posting my favorite Shakespearean sonnet here. Verily, I confess my affection for this particular adulation of the fair youth is partly due to the "food" and "gluttoning" contained therein. (You would find yourself similarly influenced if you inhaled soup all day.)
Thank you for sharing your time, your wealth of knowledge, your heart. "So you are to my thoughts as food to life. Thus do I pine and surfeit day by day."
One question has been tormenting me of late: do you think there is the slightest possibility that the fair youth was a garden gnome? *hoping*
Forever yours,
Fitzhugh Dobbins, Esq.
aka "gnome sweet gnome"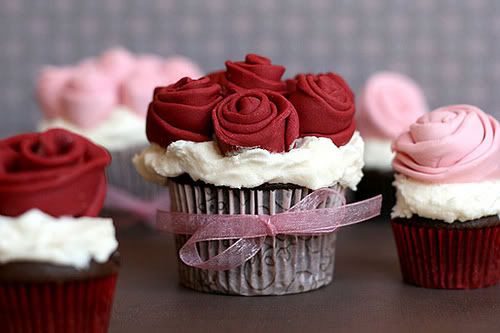 "That which we call a rose by any other name would smell as sweet."
*rose cupcakes by bakerella.